We Have A Service Department Dedicated to Your Specific Waterproofing Systems Needs
Our fully staffed service department will work to keep your system functioning properly
Servicing Your System
At AFS Foundation & Waterproofing Specialists, we maintain a full-time, dedicated service & maintenance staff to help maintain the systems we install for our customers. You can count on us to be there for you!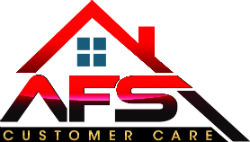 At AFS Foundation & Waterproofing Specialists, we're proud to be certified members of the Basement Systems Network of professional basement waterproofers and sump pump installers.
We offer all the patented, award-winning products designed by the experts at Basement Systems used to keep basements dry.
With that being said, we know that all of the products such as sump pumps and dehumidifiers are made with parts that require maintenance.
Our company has developed a full staff dedicated to servicing and maintaining your product after it has been installed within your home.
Just as you would rely on a service department in a car dealership to assist you with issues with your car, we want you to rely on us to efficiently test, run and service your waterproofing system.
It's called our Customer Care Plan, to take care of our customers' systems to avoid potential issues down the road.
Contact AFS Foundation & Waterproofing Specialists for more information on our service department and the benefits of having your waterproofing system regularly serviced. We help homes throughout Alabama including Montgomery, Mobile and nearby.
Get Checkups After Your Warranty Expires with our Customer Care Plan
Regular maintenance greatly enhances the life of your sump pump and dehumidifier and the parts that along with them long after your warranty is up. We offer a specialized Customer Care maintenance plan designed to check on your system after the depletion of the manufacturer's warranty. During your maintenance visit, our service technician will inspect the following elements:
Checking the pump operation
Flood Test
Clean the pump liner of any sediment or silt
Check the discharge lines
Change the batteries in your Watch Alarm
Change any dehumidifier filters
Complete perimeter check
Check for domestic leaks
We recommend scheduling an annual service or maintenance to ensure that your sump pump and waterproofing system are operating at peak performance levels.
Our technicians can serve homeowners anywhere in our Alabama service area, including Birmingham, Montgomery, Mobile and nearby.
Keep Your Waterproofing System Healthy
Your service department specialist is professionally trained to detect problems with your system such as worn-out components, or parts that aren't functioning properly. We can repair any damages we encounter to make sure your sump pump and dehumidifier is ready for the next big flood or excessive rainfall.
It is important to schedule regular maintenance with a member of our service department staff. They are dedicated around the clock to assist you with any updates, repairs, and additions within your basement that you will need to keep it dry and usable.
Your Professional Service & Maintenance Visit
At AFS Foundation & Waterproofing Specialists, we pride ourselves on the thoroughness and professionalism of our specialists. Each of our service technicians is experienced and fully trained to provide your system with a complete, comprehensive waterproofing system maintenance.
During their visit, your expert will conduct all of the following steps: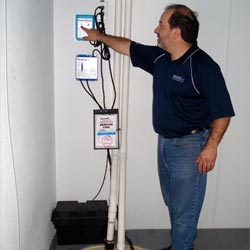 Test The Battery Backup Alarm
Homeowners can sometimes go for months or longer without using their battery backup sump pump. But anyone who's experienced heavy rains and/or a power outage knows that when you do need your battery backup, you really need it!
During your annual maintenance, your service specialist will inspect your battery backup system and alarm, making sure that the system is charging properly, and that your battery is still able to produce the proper operating life for your system.
On a full charge, our UltraSump® Battery Backup System should be able to pump more than 12,000 gallons.
More about our UltraSump® Battery Backup Sump Pump
---
Clean The Sump Pump Liner
Over many months and years of operation, a sump pump liner can slowly begin to accumulate mud and debris from the water as it pumps.
To avoid this becoming a clogging issue, our drainage systems are installed in a bed of gravel and out of the "mud zone", and the pumps are raised off the bottom on plastic stands. Nonetheless, we recommend cleaning the liner of this debris annually as an added precaution.
To ensure maximum clog-resistance for your sump pump system, we use cast-iron Zoeller® Sump Pumps in each of our installations. These pumps include a powerful impeller that can eject ½" solids without risk of clogging.
More about Zoeller Sump Pumps
---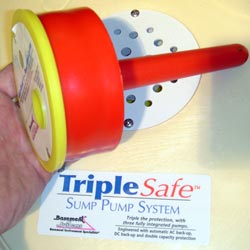 Test The Sump Pump Alarm
Each sump pump system we install includes a battery-powered water alarm. This alarm is designed to detect water levels that are too high in the sump pump. If this occurs, the alarm sounds off, giving you time to respond. This alarm can even be connected to some home security systems -- so you get a phone call!
Most homeowners who have one of our systems installed will never need this alarm. However, like the battery backup, you'll be glad it's there if you do need it.
When we do our waterproofing service visit, we'll make sure that this alarm system is functioning properly, and that the battery is properly charged.
More about our Complete Sump Pump Systems
---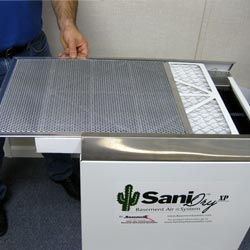 Replace The Dehumidifier Filter
The SaniDry™ XP Systems we install are a complete air system for your basement or crawl space.
Along with dehumidifying the air, it's also equipped with an air filtration system that's capable of removing particles from the air as small as two microns. An optional carbon odor filtration system is also available.
Like any filter, the air filter in your SaniDry™ system will need to be routinely replaced -- approximately every 12 months. Your service specialist can replace this filter during their visit, and can also inspect your system to make sure it's in optimal working order.
More about our SaniDry™ Dehumidifier Systems
---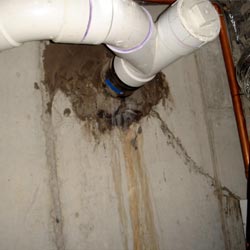 Check For New & Emerging Issues
As is the case with any other part of your home, your basement or crawl space may develop new issues with leaking or moisture over time.
Common issues can include leaking through rusty basement windows, leaking wall penetrations (such as where a hole has been created for a pipe or wire to pass through), and issues with failing water heaters.
Your service specialist can inspect your basement to identify new and emerging issues with your space. Solutions and suggestions for potential upgrades may be recommended during the visit.
More about the Causes Of Basement Flooding
Schedule maintenance visits for your waterproofing system
We want you to get the most out of your waterproofing system investment! Schedule a system service appointment with us each year to ensure that your system is running at peak performance - so you can rest easy with a basement that's dry all the time!
We repair and maintain systems installed within our Alabama service area, including Birmingham, Huntsville, Madison and many areas nearby.
Looking for a price? Get a no cost, no obligation free estimate.