Basement Waterproofing Company Serving Huntsville, Madison, Birmingham & Nearby
If your basement is wet, cracked, or smells musty – we can help!
What Our Customers Say!
By Elisabeth C.
Scottsboro, AL

"The previous company was a disaster, and your company did everything as you said you would. In the finished basement we asked..."

By Gary B.
Hazel Green, AL

"Service provided by AFS was excellent. I would recommend you to anybody."

By Pamela K.
Meridianville, AL

"Thank you for your quick response. Being a assisted living home for the elderly it is important that we keep them safe. your..."

By Julia C.
Brownsboro, AL

"This is the best investment I have made in protecting my home. When my basement had 4 feet of water that returned as quickly as..."

By Julia C.
Brownsboro, AL

"I am a very satisfied customer. All personnel including salesman Adam, customer service Chasidy, Ben and others were top. Adam..."
Any problem that you have in your basement, AFS Foundation & Waterproofing Specialists can solve fast and for good. As an experienced waterproofing company, we've helped hundreds of Alabama homeowners; earning us the #1 Best in Business Award in Huntsville/Madison County for Excellence in Business.
All of our patented waterproofing products, like the award-winning WaterGuard drainage channel, are custom designed to fit your home and built to keep your basement dry. We install these products exclusively as the authorized dealer in Huntsville, Birmingham, Huntsville, Madison and nearby.
Custom, proven solutions for a dry basement
Our complete basement waterproofing system includes all the solutions you need for a dry, comfortable, odor-free basement; no matter what's causing your issues. We offer many solutions for your home, including sump pumps, basement drainage systems, dehumidifiers, crack repairs, vapor barriers, and more. We also provide annual maintenance and offer a Customer Care Plan to help you easily maintain your waterproofing system.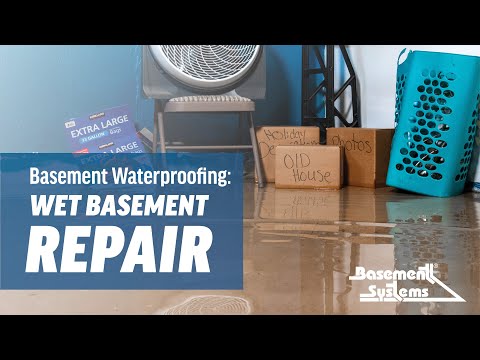 Basement Waterproofing with the WaterGuard...
Related Videos
Signs of a basement waterproofing problem
Your damp or wet basement can cause more than just a headache; these issues can create bigger problems like mold, mildew, rot, structural damage, and a variety of health problems. If you've noticed any of the symptoms below, you might have a basement water problem.
Wet or damp basement floor
Leaking or damp basement walls
Pooling or standing water
crystalline deposit on concrete surfaces
Musty odors
Condensation
Sump pump issues
Leaky basement windows
Request a free estimate from your local basement company
If you think you have a basement waterproofing problem, request a professional basement inspection today. We will send one of our certified basement waterproofing specialists to visit your home and conduct a thorough inspection of your home's basement foundation.
AFS Foundation & Waterproofing Specialists (formerly Alabama Foundation Specialists), fixes leaky basements in Alabama, in areas like Hoover, Tuscaloosa, Huntsville, Decatur, Birmingham, Columbus, Auburn, Madison and neighboring towns and cities. Contact us today for a free wet basement repair estimate.
Other companies might try to sell you on inferior basement waterproofing solutions. Our products have been developed, patented, and perfected by Basement Systems®, Inc. -- the world's largest network of basement waterproofing contractors.