The Chattanooga Guide to Gutters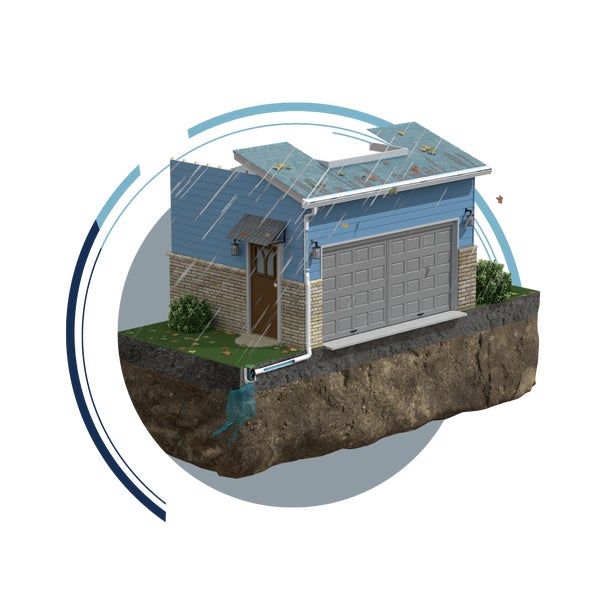 Gutters are an important part of your home's water management: they protect your house from Chattanooga's above-average annual rainfall. Without a working gutter system, your home is susceptible to damage and other water-related problems like mold and structural damage.
The gutter pros at AFS have compiled their expertise to provide homeowners in Chattanooga with this complete guide to gutters. Knowing the ins and outs of gutter systems will arm you with the knowledge you need to maintain yours and protect your home against water damage.
---
Why Your Home Needs Gutters
Gutters are so much more than a decorative component on your home. Although they can certainly add a bit of flare to the exterior of your house, their primary purpose is to prevent water-related problems. Without properly functioning gutters, water will run down the side of your home and cause severe problems, such as:
Siding staining
Foundation problems like cracks and settling
Mold and mildew growth on your home's interior and exterior
The Components of a Gutter System
There are several components that make up a complete gutter system, including:
Downspouts
Elbows
End caps
Gutter guards
Hidden hangars
Knowing the purpose of each component helps you understand them in the context of the entire system and better enables you to address gutter-related problems with your system.
Downspouts
A downspout is an enclosed piece that attaches to the side of a building and carries the water from the gutter to the ground. Downspouts can empty directly into an underground drain or onto the ground itself. If the downspout isn't directed into an underground drainage system, an elbow or extension should carry the water a sufficient distance from the foundation.
Elbows
Elbows connect to the bottom of downspouts and direct the water in a particular direction. An elbow can run the water straight out from the downspout opening or to either side. The particular elbow that is best for you will depend on the layout of your property and water management needs.
End Caps
Regardless of the gutter style, every gutter has a beginning and an end. Both the start and end of a gutter run are complete with an end cap. These pieces not only make the gutter system look better, but they prevent water from running over the side, keeping it in the gutter and directing it towards the downspout.
Gutter Guards
Out of all the components discussed here, gutter guards are the only optional ones. Gutter guards come in a wide range of styles, but their primary purpose is to keep leaves and other debris from entering the gutter, thus minimizing the need for regular cleaning.
Hidden hangers are the preferred way to mount gutters to a home. This type of hanger clips into the inside channel of the gutter and screws through the back of the gutter into the fascia. Hidden hangers can support large loads, which are common in high-rainfall areas like Chattanooga. It is important to note that hidden hangers only work with k-style and rectangle gutters.
The Dangers of Damaged Gutters
Damaged, clogged, or missing gutters pose a significant threat to the structural stability and overall health of your home and those inside.
The first part to suffer from inadequate gutters is the foundation. Water can cause uneven foundation settling and cracks and flooding beneath the house.
Water runoff can also damage siding and promote the growth of mold and mildew in and around the home. Mold and mildew look and smell bad, but even worse, they can cause respiratory problems for the people in your home.
In short, water can damage everything from your foundation and siding to your windows and health. The only way to prevent these problems is with a quality gutter system that carries runoff out and away from your home.
Installing Gutters on Your Own
Chattanooga homeowners may choose to install gutters on their own. While installing gutters yourself is viable, a professional installation ensures your gutters work as they should. The pros are experienced with safely and efficiently measuring and installing these systems, as well as adding the correct slope to the gutters for effective drainage.
DIY gutter installations may result in mistakes that can impact your home negatively, which is why we suggest you use your local gutter installation company.
Educate Yourself About Gutters & Make Informed Decisions for Your Home
While having drains and other water management systems around your property is important, keeping your house dry starts outside with your gutters and downspouts. Properly functioning exterior drainage components are essential in keeping excess water away from your home's foundation. Maintaining a safe, dry, and healthy home for your family is important to you, and our team understands that. When it comes to gutter installation in Chattanooga, nobody does it better than AFS.
Chattanoga Gutter FAQs
On average, Chattanooga receives more than 50 inches of annual rainfall. 
That's a lot of water for your property's soil to contend with. But gutters act as your home's first line of defense in collecting and redirecting this excess rainwater in an effort to keep your foundation dry. 
Gutter systems tend to last an average of 20 years. However, you should assess the need to replace your gutters by inspecting the system. If your gutters are damaged, leaking, or otherwise not doing what they should it's time to replace them. 
Gutters play a part in the overall roofing system, but they are separate from the actual roof. 
Contact AFS Today!
When it comes to gutter installation in Chattanooga, nobody does it better than AFS. Contact us today to schedule a free inspection with one of our gutter professionals.