Uneven Floor
Did you know that uneven floors indicate foundation damage? With the right solutions from foundation repair experts, you get your floors looking and feeling stable again.
At AFS Foundation & Waterproofing Specialists, we've repaired thousands of uneven floors using industry-leading techniques. With our comprehensive foundation solutions, you will be able to reinforce your foundation and enjoy long-lasting, stable floors!
What is an Uneven Floor?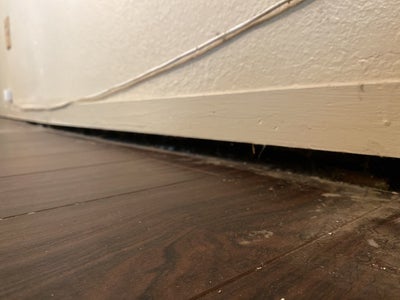 As the name suggests, an uneven floor is any floor that is not perfectly flat. Certain sections of an uneven floor appear higher or lower than others.
This causes noticeable slants, slopes and dips in the floor's surface. Uneven floors are a constant annoyance during everyday activities like walking, sitting, or cooking—your produce might even roll off the counter!
An uneven floor is almost always caused by problems with the home's foundation. When part of the foundation sinks, shifts or weakens, it pulls parts of the floor down with it, creating an uneven surface.
What Causes an Uneven Floor? Understanding Why Your Home Faces This Issue
There are a few key reasons homes develop uneven floors. Our inspection process is designed to check for all of these potential causes, so we can recommend the right solutions. Common causes include:
Foundation Settling
Over time, the soil underneath parts of the foundation naturally compacts or erodes. This causes the foundation to sink unevenly into the ground, affecting the floors above in the same way.
Tree Roots
As tree roots grow in your yard, they could end up moving under your home. If they get big enough, they put pressure on your foundation, causing structural damage. Over time, this makes the foundation weak, making it difficult to properly support your floors and causing uneven sections.
Excess Moisture
Just as your home relies on the foundation for support, the foundation itself relies on the soil. Unfortunately, moisture may cause issues in the soil surrounding your foundation.
In some areas, water will cause the soil to erode and break down. This leads to foundation settlement and by extension, uneven floors in your home.
However, in areas with high amounts of clay soil, water will cause the soil to expand and push against the foundation. As the base of your home becomes pushed out of line, so too do the floors inside your house.
Improper Installation
Sometimes floor joists were installed out of line, or the subflooring wasn't properly leveled. In either case, the floor is uneven from the very beginning, and this problem worsens over time.
Can You Fix an Uneven Floor?
In most cases, yes! With the right foundation repair techniques like pier systems, floors can be re-leveled, and the underlying causes will be addressed at the same time.
Keep in mind, cosmetic solutions like shims or sanding may make the floor look better for a short time, but they don't actually fix the root of the problem. Our foundation solutions do!
At AFS, we reinforce your foundation and prevent sinking or shifting in the future. Our comprehensive repair approach leads to long-lasting results homeowners have trusted since 2000.
How to Fix an Uneven Floor: A Step-By-Step Guide
AFS has perfected the floor leveling process over 20+ years. If you choose to work with us, here's what you can expect:
1. Initial Inspection
Our team will thoroughly assess uneven floors and map out low points. We'll check for foundation damage and look for issues like moisture intrusion or damaged supports.
2. Install Foundation Piers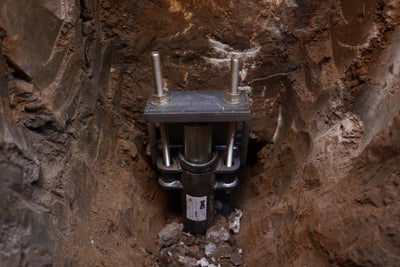 We'll install pier systems in affected areas to gently lift floors back to level. Our supports are engineered to meet your home's needs and redistribute its weight evenly.
Depending on the location and extent of the damage, we may use either slab piers, push piers, or helical piers. No matter which type of pier we determine is best, rest assured they all accomplish the same task and protect your foundation!
3. Additional Home Repairs
If needed, we'll address other underlying issues like moisture intrusion or damaged concrete (which can also lead to foundation damage). This comprehensive approach helps prevent foundation damage from happening again or spreading to other areas of your home.
Why You Should Address Uneven Floor Issues Today
It's important to take action at the first signs of an uneven floor. Here are the risks of putting off repairs:
Settlement and sinking will continue, making floors increasingly uneven
Structural damage can occur if unstable soils wash away or supports snap
Moisture issues lead to mold growth, wood rot and health hazards
Plumbing leaks become more likely as foundations shift and pipes bend
Repair costs increase exponentially as damage spreads
Don't wait until minor dips in your floor become major safety hazards or lead to costly foundation failures. AFS has affordable, non-invasive ways to reinforce settling foundations and return floors to level. Protect your home with comprehensive repairs from the floor leveling experts.
Contact AFS Foundation & Waterproofing Specialists for Lasting Solutions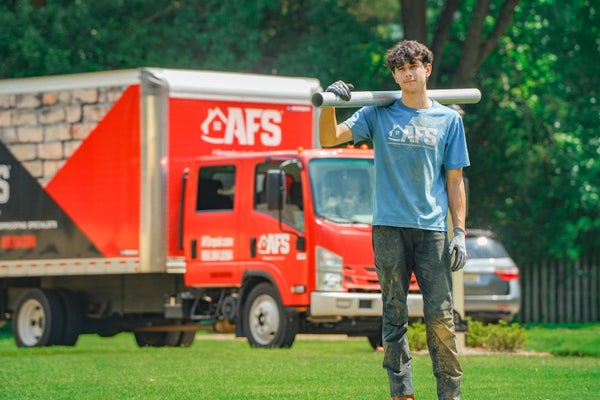 If uneven floors have you worried about foundation problems, AFS Foundation Repair & Waterproofing Specialists can help. Our comprehensive floor leveling services have restored thousands of foundations and floors for over 20 years.
We offer a free, professional inspection to help you understand the issue and provide a same day quote. Then we create a repair plan that best fits the needs of your home. Our warrantied solutions provide a permanent fix you can trust!
Uneven floors are a clear sign your foundation needs attention. Don't ignore them! Contact the experts at AFS to schedule your free inspection today.