Cracks in Basement Floor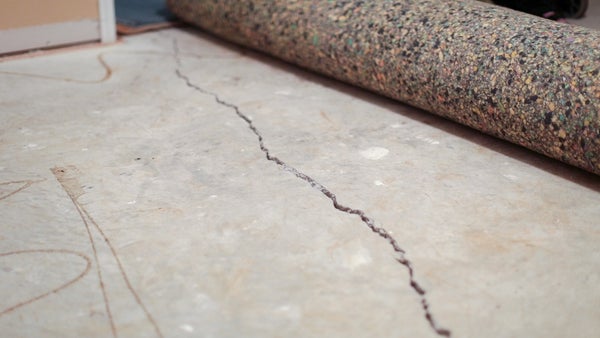 If it looks like an earthquake has just wreaked havoc on your basement, there's a problem. If overlooked, cracks in your basement floor jeopardize your basement's structural stability and make it easy for groundwater to get inside.
AFS has the tools and experience needed to address these cracks. We'll show you why floor cracks arise in the first place and how to stop them.
What Are Cracks in a Basement Floor?
Cracks in a basement floor are classified as any separation, breach, or break in the concrete floor. Cracks often emerge when pressures and forces push concrete out of line.
While not all cracks spell doom for your foundation, it's always best to give them attention as soon as possible to prevent water intrusion or even bigger cracks from forming.
Why Do Cracks in Basement Floor Occur? Understanding the Culprits
There are numerous factors behind the emergence and spread of basement floor cracks. Our adept team will guide you in recognizing these reasons during an inspection:
Concrete Shrinkage
Newly poured concrete can shrink as it cures. Uneven shrinkage results in cracks. Typically, these cracks are thin and won't affect the structural integrity but can allow water seepage if they extend through the thickness of the slab.
Soil Erosion
Over time, the ground underneath your home may move due to changes in moisture content, leading to cracks. For instance, rain often causes soil erosion below your foundation.
Your basement settles as the soil breaks down. As it shifts, the concrete floor will crack as it moves.
Heavy Loads
Storing very heavy items in the basement can sometimes exert excess stress on the floor, leading to cracks, especially if the floor was not designed to bear such weight.
Hydrostatic Pressure
Water can accumulate beneath your basement floor and create upward pressure, leading to floor cracks. Such cracks may widen over time, especially if the water pressure remains high.
Simultaneously, if water gets into your basement, excess moisture can break down the concrete further and worsen those cracks.
Expansive Soils
Certain soils can expand when they become wet and contract when they dry out, causing foundation heave. If your home is built on such soil, this expansion and contraction can cause the basement floor to crack.
Recognizing what caused your basement floor to crack is crucial in determining the appropriate repair techniques. With AFS on your side, you have access to methods specifically designed to counter these underlying issues!
Can AFS Resolve Cracks in Basement Floors?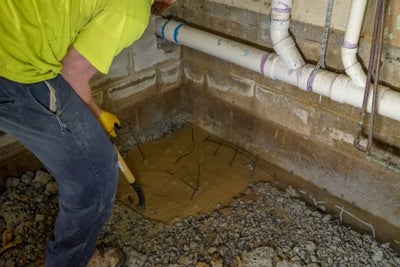 Definitely! Modern advancements in foundation remediation mean that you don't need to replace the entire basement floor when cracks arise.
Keep in mind, floor cracks can vary—their position, nature, pattern, and size dictate their seriousness and repairs needed. That's why our inspection process involves a comprehensive approach. We make sure your cracks are getting the right fix.
How AFS Addresses Cracks in Basement Floors: Our Repair Strategy
Our method is endorsed by countless homeowners. Our unwavering attention to detail and efficiency sets us apart. Here's our approach:
1. Comprehensive Assessment
We carefully check every crack, detailing its location, length, pattern, and width. This helps us determine if factors like ground movement, hydrostatic pressure, or heavy loads are responsible. We also study the soil conditions around your home and the overall state of the foundation.
2. Redistribute Weight with Pier Systems
When a basement floor starts to sink or becomes uneven due to the ground shifting underneath, foundation piers can be strategically positioned and driven deep into sturdy, underground rock.
These piers transfer the weight of the basement floor from the shifting soil to the sturdy piers. Once anchored, these piers elevate the basement floor back to a safe position, ensuring a level and stable foundation in the long term.
3. Wall Repair
Cracks in the floor are caused by the same forces that cause wall cracks. If this is happening to your basement, it's beneficial to consider wall repair.
AFS installs various wall repair solutions including:
Each of these is designed to withstand heavy loads. With these solutions, you'll prevent water intrusion and structural stress in your basement (both of which can cause floor cracks).
4. Interior Drainage
To guard against hydrostatic pressure and to redirect any moisture that might find its way through cracks, we install an interior drain system. Coupled with a sump pump, water is continuously moved away from your basement so it can't cause any more damage.
Our arsenal consists of top-notch solutions tailored to the unique needs of your basement. Our vast experience means we're adept at ensuring basement floor longevity.
Why You Should Address Floor Cracks ASAP
Hasten to fix floor cracks before minor fissures escalate into substantial foundation issues. The urgency of proactive measures:
Cracks can expand rapidly due to persistent pressures.
Growing cracks pave the way for increased water intrusion, potentially leading to mold growth and erosion.
Disregarding cracks can trigger sinking floors and structural damage.
The longer you wait, the pricier the fix, especially if water damage also arises.
The health of your home's foundation translates to the stability of your home. Don't ignore signs of damage like floor cracks. With AFS Foundation & Waterproofing Specialists, get swift and efficient solutions that don't just patch the surface but thoroughly fortify your basement.
Reach Out to AFS for Expert Basement Floor Crack Solutions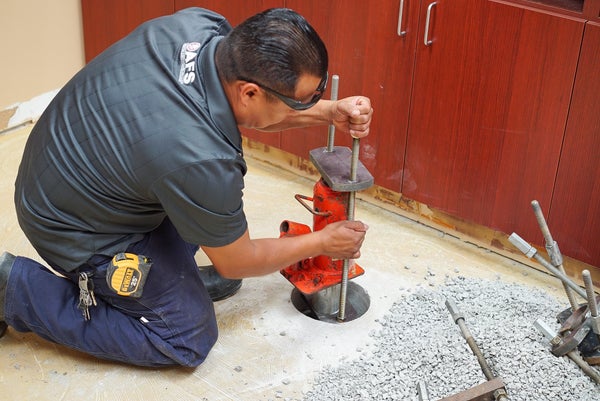 Spotting cracks on your basement floor is a sign that something is wrong. Acting quickly is the best way to avoid the risks of structural instability and water damage.
At AFS Foundation & Waterproofing Specialists, we employ top-tier techniques to mend existing cracks and bolster your entire basement.
Contact us for a free inspection and ensure your basement stands firm. Don't settle superficial fixes; delve deep into the issue with comprehensive solutions from the masters at AFS.
Publish Date:
Last Modified Date:
Explore more problem signs