BasementGutter™ Interior Drainage System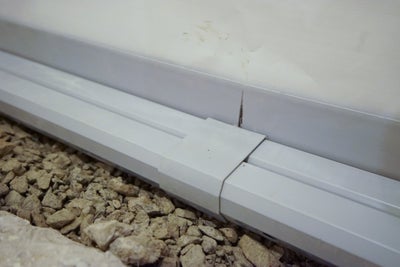 Living with a basement prone to leaks is no fun. If you're dealing with this in your home, you've probably noticed some uncomfortable side effects—and they'll only get worse if you ignore the problem.
This is where the BasementGutter™ Internal Drainage System comes in. Expertly engineered, it provides long-lasting protection against basement water.
As the Southeast's leading specialists in basement waterproofing, our team at AFS is committed to delivering quality service and solutions that actually work.
This page will help you understand why internal drainage is so important and why BasementGutter™ is the best option on the market. That way, you can protect the things you love and keep your home secure.
What is BasementGutter™ Internal Drainage?
Our skilled crew at AFS recognizes the challenges of dealing with ineffective systems like footing drains and floor drains, leading to a damp basement.
To combat this, we present a top-notch substitute. BasementGutter™ Internal Drainage is a cutting-edge drainage system applied along the interior border of your basement. It skillfully redirects water coming from the walls or infiltrating through wall-floor joints to your sump pump for expulsion.
The implementation is performed in the sub-floor, cleverly situated above the footing and distanced from the "mud zone," ensuring a blockage-free design. A 3/8" wall flange makes certain any water seeping from the walls is channeled into the BasementGutter™ system.
This drainage system is pivotal in a holistic home waterproofing plan, promising you tranquility and a wholesome living space.
Signs You Need Internal Drainage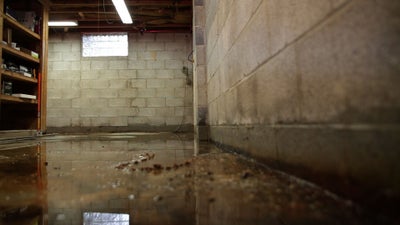 If you've observed any of the following indicators, think about incorporating an internal drainage system:
Wet basement walls
Basement window leaks
Mold growth
Musty basement smells
These concerns can develop and intensify quickly, leading to severe damage. At the first sign of these symptoms, reach out to a reputable basement waterproofing team like AFS without delay.
Addressing these concerns promptly can spare you from extensive destruction and high repair costs.
Is Internal Drainage Necessary?
Absolutely. Not having a proficient internal drainage system can result in a multitude of issues, including structural damage and higher repair expenses. Immediate action is recommended.
DIY repairs or makeshift solutions are typically ineffective and can complicate matters. It's best to entrust basement waterproofing to seasoned experts, like the team at AFS.
Incorporating BasementGutter™ in our extensive home protection package guarantees your property's durability and safety.
What Are the Benefits of the BasementGutter™ Internal Drainage System?
Internal drainage provides various benefits beyond simply protecting against leaking. With a good drainage system, your entire home will benefit in the following ways:
Prevents Moisture Damage: The BasementGutter™ system promptly gathers and guides water away from walls and floors, preventing potential costly damage. It keeps your possessions dry and curbs mold development.
Works with Other Solutions: BasementGutter™ is engineered to work in tandem with our other waterproofing products. It can also work with basement wall repair systems.
Preserves Foundation: By deflecting water from concrete surfaces, BasementGutter™ defends your foundation against decay and fractures.
Enhances Peace of Mind: Our trustworthy internal drainage system assures control over water infiltration, eliminating concerns during rainfall.
To optimize these advantages, choose our specialized solutions and services. Our products are designed to surpass standard products, delivering unmatched protection.
How We Install BasementGutter™ Internal Drainage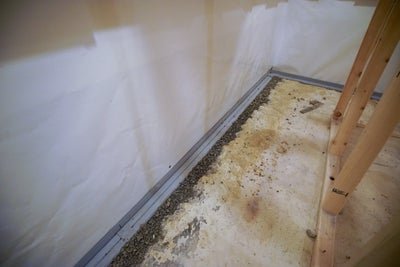 After inspecting your home and confirming the need for internal drainage, our certified installation encompasses:
Excavating 6-12 inches of concrete around the internal perimeter.
Creating weep holes in the lower blocks of concrete walls to facilitate water flow.
Positioning BasementGutter™ in the trench and filling it back with stone.
Installing a vapor barrier along the basement walls for extra protection.
Connecting the drainage line to the sump pump.
Filling any excavation with concrete where needed.
Our exhaustive waterproofing strategy also involves setting up a dehumidifier and an anti-freeze discharge attachment.
Trust AFS for proficient installation and enduring solutions.
Why Our Internal Drainage is the Best Choice for Your Home
The BasementGutter™ Internal Drainage System excels over competitors due to reasons such as:
Positioned away from the "mud zone"
Innovative blockage-resistant design
Collects water from walls, floors, and joints
Seamlessly integrates with other waterproofing elements
Supported by a robust warranty
Continual support with yearly maintenance plans
Alternatives like PVC pipes and mainstream options often fail due to blockages and ensuing damages. In contrast, BasementGutter™, exclusive to AFS, reigns superior as a reliable method to maintain a dry basement for the long haul.
Contact AFS for Internal Drainage Solutions Today!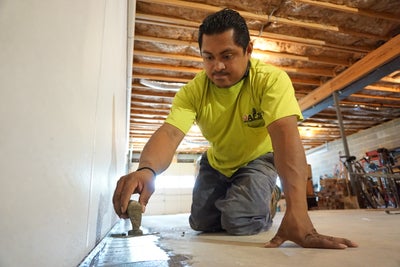 Don't allow a leak-prone basement to compromise your home's worth and security. Choose AFS for reliable, top-quality solutions. Reach out today for a complimentary, non-binding assessment.
Our internal drainage solutions offer protection to your greatest investment. For over two decades, homeowners in the Southeast United States have trusted us to fortify and safeguard their residences. We are ready to assist you.
Publish Date:
Last Modified Date: