Musty Basement Smell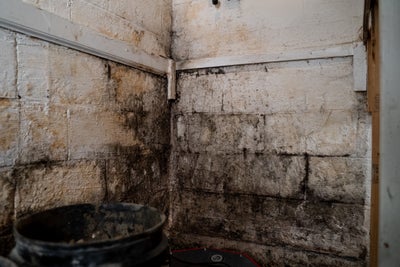 Your basement shouldn't smell like a lake house or a swamp. If it does, there's a larger issue at hand—and it could lead to serious water damage down the line.
Managing moisture below your home is crucial to keeping your home's structure intact and the air inside your living space stays clean. AFS has leading basement waterproofing solutions to help you tackle musty odors at the source.
For over 20 years, homeowners across the Southeast US have placed their trust in us to fortify and safeguard their homes. After reading this page, you'll know the reasons behind a musty smell in your basement and the best ways to handle it!
What is a Musty Basement Smell?
Musty basement smells are characterized by stale, moldy, and damp odors emanating from the lower sections of the house. Besides smelling outright disgusting at times, these scents are also a sign of potential water damage and structural complications.
Musty odors aren't usually a lone issue. They will typically coincide with issues like:
Leaking basement windows
Mold growth
Wet basement walls
Pest infestations
Water-damaged items
Neglecting these issues will only escalate water damage, turning seemingly small issues into larger hassles. Quick intervention is crucial when it comes to water issues, no matter where they appear in your home.
Causes of Musty Basement Smells in Your Home
Musty smells always start from a source of water. When water gets into your basement it leads to several issues that cause odors, such as:
Condensation: Poor ventilation and humidity in basements lead to moisture accumulation.
Standing water: Standing water will evaporate and cause musty odors as it penetrates different surfaces below your home.
Mold Development: High moisture and poor air circulation create ideal conditions for mold growth, which creates a musty smell as it releases spores and feeds on organic materials.
Pest Infestations: Invading pests introduce contaminants and produce waste that contaminates the air in your basement.
Heavy Rain: When a storm rolls around, rain will be absorbed by the soil. As it builds up underground, some of the water may find its way into your basement and cause odors.
Deteriorated Insulation: Wet insulation may emit unpleasant smells as it harbors mold and pests.
Wood Decay: Deteriorating wooden structures (like floor beams or wall studs) will eventually release musty odors.
Blocked Drains or Sump Pumps: As water gets backed up in drains or sump pumps, it interacts with the drainage material and releases a nasty odor.
Broken Sewage Lines: Damaged sewer lines release noxious odors and pose health risks throughout your home.
Basement Wall Cracks: Cracks in basement walls allow moisture and soil gases to seep inside the basement.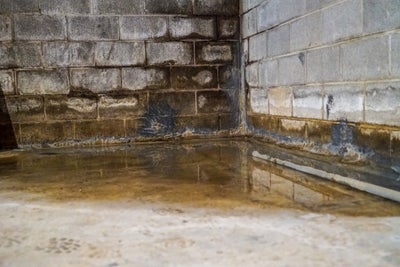 The location and nature of basements makes them quite susceptible to water damage. However, the issue can be solved with professionals like AFS.
Can Musty Basement Smells be Solved?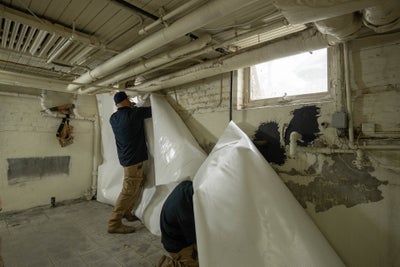 Absolutely, remedying musty basement smells is possible. While you might be tempted to mask odors with air fresheners or candles, this won't address the actual problem.
To stop basement odors for good, AFS installs a whole-home solution that cuts-off the source of moisture, providing lasting relief. Our basement waterproofing solutions are designed with this goal in mind.
AFS' Strategy for Rectifying Musty Basement Smells 
Our systematic approach to resolving basement smells and moisture includes:
In-depth Inspection: Our experts conduct a detailed inspection to identify the problem source and propose tailored solutions during a free assessment.
Internal Drainage: Our high-quality drainage system is placed around the interior perimeter of your basement. This prevents water from leaking into your basement through walls, floors, and cove joints.
Sump Pumps: Positioned at the basement's lowest point, a sump pump directs collected water away from your home. Our sump pump systems come with backup batter power as a bonus.
Wall Vapor Barriers: Our vapor barriers, resilient against water and mold, seal your basement from outdoor humidity and moisture.
Dehumidifiers: Our energy-efficient dehumidifiers manage moisture levels, control odors, and hinder mold growth, improving the overall air quality. Plus, they are self-draining!
Wall Reinforcements: We offer various basement repair tools that stabilize walls and prevent future complications, ultimately reducing moisture intrusion.
AFS provides specialized solutions, backed by extensive warranties and maintenance plans, that are more effective than standard products available in the market.
The Importance of Addressing Musty Basement Smells
Addressing musty basement smells promptly is critical due to:
Health Concerns: Mold and dampness can cause respiratory problems and attract pests, posing health risks.
Structural Integrity: Persistent moisture can weaken structures over time.
Property Devaluation: Unresolved issues can lower property value.
Comfort: A fresh-smelling home is more pleasant to live in.
AFS' tailored solutions are designed to provide a more effective, long-term resolution than generic products. Choose us for permanent, professional resolutions. 
Reach out to AFS for Trustworthy Basement Waterproofing Solutions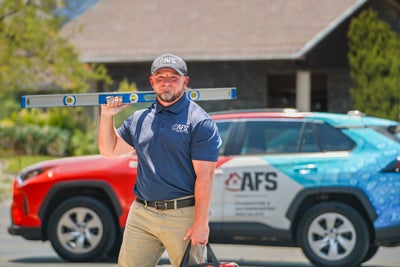 Living with a basement doesn't have to mean you also live with musty odors. We'll assess your basement, proposing solutions to permanently resolve the fundamental causes of moisture complications.
Our exclusive waterproofing products are trusted by numerous homeowners and work better than any retail alternatives. Contact us for a free, no-commitment inspection and make your basement a drier, safer place today!
Publish Date:
Last Modified Date:
Explore more problem signs