Humidity in the Basement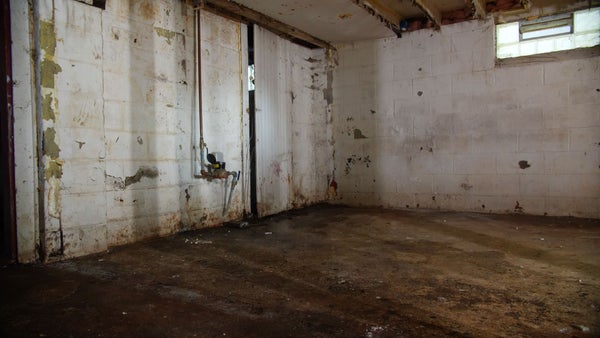 Basement humidity isn't just unpleasant—it can cause serious problems for your home and health. Excess moisture nourishes mold and even erodes the structures that support your basement.
At AFS, we understand the bothersome nature of humidity, and we'll help put a stop to it. With this comprehensive basement humidity guide, you'll know the causes of a humid basement and how they harm your home. You'll walk away knowing exactly how to eliminate humidity and musty odors for good.
Where Does All This Humidity Come From?
Humid basements don't just happen on their own—moisture must come from somewhere. Generally, it has to do with wall gaps and water intrusion. Let's go over several sneaky factors that work together to cause basement humidity.
Groundwater Seepage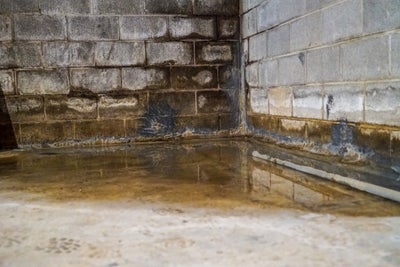 Like an unwanted houseguest, groundwater weasels its way through porous concrete walls and floors. Areas with substantial annual rainfall (over 40 inches a year) and thick clay soils get the worst of it because the dense clay retains moisture.
Groundwater tables commonly rise and fall seasonally as well. Spring rainfall saturates the soil and raises groundwater levels. If your basement walls or floor sit below this fluctuating water table level, moisture will seep in through the concrete over time.
Missing or Damaged Vapor Barriers
Vapor barriers along walls and floors are supposed to block incoming humidity. But even if you have an existing vapor barrier, any gaps, tears, or partially detached sections won't stop it. It's like having a raincoat with holes.
What's more, most homes don't even have vapor barriers to begin with. Work with a professional basement waterproofing company to install a high-quality vapor barrier in your home.
Floor and Wall Cracks
Cracks in basement floors and walls let in water. We're talking about small fissures, barely the width of a penny.
Over time, tons of water will penetrate these tiny cracks and slowly erode the wall's structure.
Roof and plumbing leaks are also a concern. Water travels down into your basement and instantly raises humidity. That slow drip from the water heater may not seem like much, but it adds up.
Poor Ventilation
Inadequate airflow in your basement causes humidity to accumulate instead of cycle out. Unfortunately, many basements have minimal airflow and are surrounded by concrete. This creates conditions that are more prone to high humidity. Without fans, air vents, or dehumidifiers, moisture has nowhere to go.
Weather Changes
Seasonal spikes in humidity brings moisture into your basement to the degree that you might as well have a fog machine running down there. When warm, humid outdoor air contacts cool basement surfaces, the resulting temperature change causes water to condense, adding loads of moisture, especially in summer.
Can You Fix a Humid Basement?
Absolutely! By implementing moisture control tactics such as sealing cracks, improving airflow, installing vapor barriers, upgrading sump pumps, and actively draining water, you can reduce basement humidity to comfortable levels.
Combining several basement waterproofing solutions better keeps humidity out of your home. AFS Foundation & Waterproofing Specialists offer fully customized systems to eliminate basement moisture and defend against sneaky mold.
For instance, our interior drainage system lines the basement perimeter with drainage pipes to direct water seepage away from the walls. Coupled with dehumidifiers and vapor barriers, these solutions can create a dry, controlled basement.
How to Stop Basement Humidity
Follow these steps to eliminate humidity and musty odors for good:
Install a Dehumidifier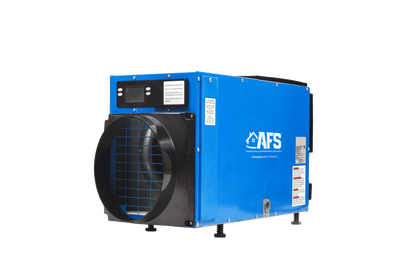 Don't use big box store dehumidifiers
Connect professional dehumidifiers to drainage
Our dehumidifiers are self-draining and can remove up to 100 pints of water a day
Seal Cracks and Leaks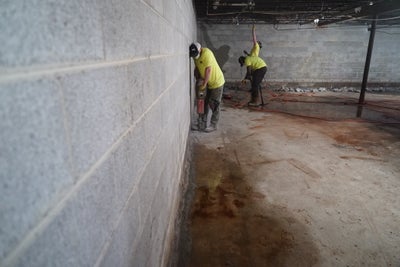 Identify water entry points like cracks and gaps in walls and floors.
Promptly repair roof and plumbing leaks.
Employ basement repair to address structural issues.
Install Vapor Barriers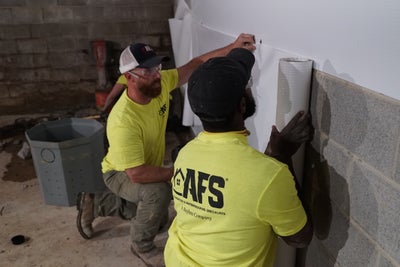 Line walls and floors with durable, long-lasting moisture-proof barriers.
Choose materials that won't tear easily or wear out over time.
Thoroughly seal seams during application to prevent moisture infiltration.
Enhance Drainage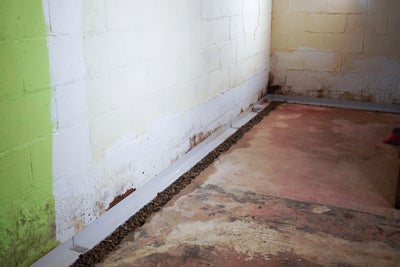 Ensure the ground slopes away from your foundation.
Install interior drainage systems to redirect groundwater and seepage.
Employ gravel beds and perforated pipes for collecting and draining water.
Upgrade Sump Pumps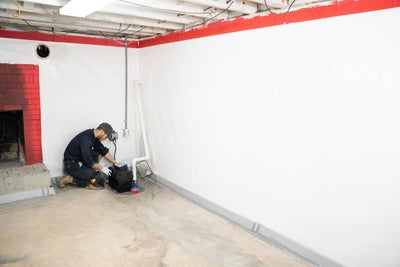 Maintain properly functioning pumps to eliminate water from the drainage system.
Install new sump pumps with backup units and battery power to prevent flooding during power outages.
Connect pumps to interior drainage systems to actively divert water away from walls.
AFS has an expert team that can install these solutions for you. Our exclusive premium products and proprietary solutions target humidity at the source. Our systems outperform generic dehumidifiers in terms of performance and long-term reliability.
Why You Should Address Basement Humidity Quickly
Basement humidity lingers like an untreated wound in your home. They only get worse over time. Taking action today prevents a host of problems in the future:
Mold spores multiply and affect indoor air quality, leading to allergies and irritation.
Musty odors stubbornly cling to clothes, furniture, and other possessions.
Moisture slowly corroding metal pipes, damaging wood floors, and weakening your foundation's structural integrity.
High repair and replacement costs due to extensive water damage, wood rot, and mold remediation.
High humidity forces your HVAC system to work nonstop, resulting in increased energy bills.
For homeowners dealing with excessive basement humidity, AFS Foundation & Waterproofing Specialists offer accurate diagnostics and custom moisture control solutions.
Our solutions address root causes for permanent fixes, not temporary band-aids. We offer free inspections for all contributing factors, and we tailor systems to match your home.
---
Contact AFS for Lasting Humidity Solutions
Don't tolerate persistent humidity and musty odors in your basement another day. At AFS, we eliminate the source of the problem using industry-leading solutions and techniques.
Contact us for a free inspection and estimate. Together, we'll get you the dry, odor-free basement you deserve. Invest in lasting solutions and breathe easier in a dry basement!