Basement Sump Pumps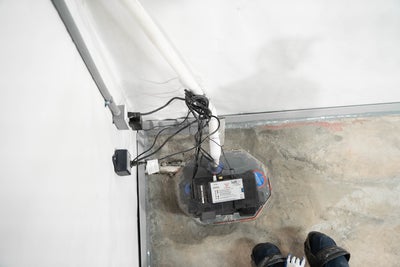 The presence of water in your basement can lead to damage, destruction of cherished possessions, expensive repairs, and decreased property value. AFS offers the dependable AFS AquaStop™ Sump Pumps to efficiently remove water, ensuring a dry and secure basement environment.
For over 20 years, our team has been waterproofing basements across the Southeast United States, earning the trust of homeowners through our exceptional customer service and superior basement waterproofing services.
This page will guide you through the significance of having a dependable sump pump system and how our products can permanently address your basement moisture concerns.
What is the AFS AquaStop™ Sump Pump System?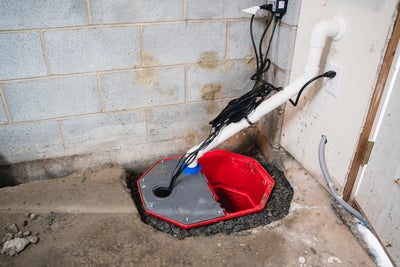 AFS AquaStop™ Basement Sump Pump System is a specialized mechanism located at the deepest part of your basement. It is engineered to gather water from the interior perimeter drainage system and redirect it away from your home's foundation.
This system is fundamental to basement waterproofing, defending against basement water accumulation and infrastructural damage. Beyond that, it is a component of a broader whole-home solution designed to maintain a secure and healthy living environment.
AFS AquaStop™ Sump Pumps come with features like a water alarm, sump liner, secure sump lid, and durable cast iron pumps to guarantee reliability and efficiency. Regular maintenance ensures the longevity of your AFS AquaStop™ sump pump, keeping your basement moisture-free for years.
Signs You Need a Basement Sump Pump 
Identifying the signs indicating the requirement of a sump pump in your basement is vital:
Wet basement walls
Unpleasant, musty odors
Mold growth
Basement window leaks
Recognizing these signs is crucial for safeguarding your home against water damage and related complications.
Is a Sump Pump Necessary?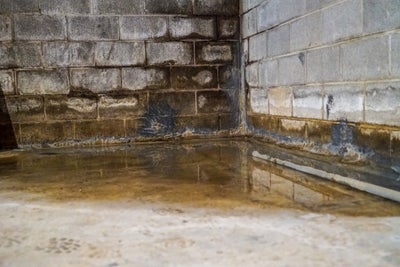 Yes, a sump pump is extremely valuable in your basement; it serves as the core component of any basement waterproofing system. Without a sump pump, moisture will accumulate, resulting in mold, mildew, and structural impairments.
Prompt action can spare you the trouble of addressing major issues later. Moreover, AFS AquaStop™ Sump Pumps can be smoothly incorporated into a broader home solution, focusing on the wellbeing and safety of your living space.
What Are the Different Kinds of AFS AquaStop™ Sump Pumps? 
Recognizing that each home has unique needs, we proudly offer a range of sump pump systems designed for your specific basement requirements.
AFS AquaStop™ Basement Single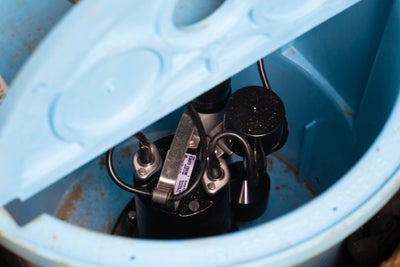 This single pump system employs a robust SafeDri™ cast iron pump for regular water expulsion. Available with either a SafeDri™ ⅓ hp or ½ hp pump. The ⅓ hp pump can discharge over 2,000 gallons of water per hour, while the ½ hp pump can handle over 3,000 gallons per hour.
AFS AquaStop™ Basement Single with Battery Backup 
This variant incorporates a battery backup to guard against power failures, capable of discharging over 11,500 gallons per hour on battery power.
AFS AquaStop™ Basement Triple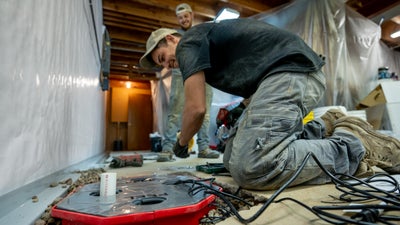 Our most advanced system features three pumps for total protection. The main SafeDri™ 1/3 hp pump manages daily water removal. A secondary SafeDri™ 1/2 hp pump increases capacity for larger volumes, and a third, the battery backup pump, offers protection during power losses.
Each sump pump model is crafted to address specific needs. Our certified technicians will evaluate your basement conditions and suggest the most suitable AFS AquaStop™ system for your residence.
What Are the Benefits of the AFS AquaStop™ Sump Pump System? 
With a trustworthy sump pump system, you'll experience numerous advantages, such as:
Guaranteed Basement Dryness: AFS AquaStop™ efficiently expels water from your basement, mitigating flooding and moisture damage risks.
Holistic Defense: Our pumps are compatible with other waterproofing solutions like interior drainage, vapor barriers, and dehumidifiers.
Dependable Pumping Performance: Featuring up to triple redundancy and battery backup options, AFS AquaStop™ ensures consistent pumping even under severe weather and power disruptions.
Extended Durability: Our cast iron pumps are designed for decades of hassle-free service. Plus, our yearly maintenance programs guarantee optimum system functionality.
AFS is your go-to source for addressing basement moisture issues. Our exclusive pumps, coupled with professional installation, offer personalized protection and benefits you won't find anywhere else. Reach out to schedule your free inspection.
How AFS AquaStop™ Sump Pumps Work 
The sump pump is just one part of our basement waterproofing system. It works best alongside other tools. After an AFS expert evaluates your basement, the installation process involves:
Locating the basement's lowest point
Digging the floor to fit the sump liner
Excavating the perimeter for the interior drainage system
Installing interior drains in the trench
Connecting drains to the sump basin
Arranging pumps and components in the sump liner
Installing interior sump pump discharge pipes
Leading discharge pipes through the basement wall
Setting up exterior discharge pipes, extensions, and freeze-resistant discharge line attachment
Connecting electrical hookup to control panel
Incorporating battery backup if needed
Testing the pumping system
Sealing the sump basin with an airtight lid
Restoring the concrete floor with cement
Here's how the system maintains your basement's safety and dryness:
The interior drainage system gathers leaking water.
Water is channeled to the sump pump system.
The basin activates the pumping system once the water reaches a certain level.
Water is pumped out and directed away from your residence.
AFS ensures top-notch installation services to secure the efficacy of your sump pump and all-encompassing basement waterproofing system.
Why Our Sump Pumps are the Best Choice for Your Home 
AFS AquaStop™ sump pumps boast several distinctive features like:
Top-grade cast iron pumps
Water alarm
Secure lid
Multiple protective layers
Compatibility with other solutions
Backup battery options
Yearly maintenance service plans
Extensive transferable warranty
For premium basement protection, trust AFS for superior sump pump systems and comprehensive home solutions.
Contact AFS for Sump Pump Solutions Today!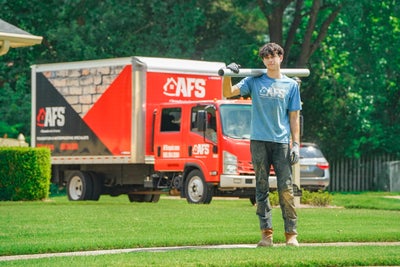 Don't let basement leaks become a nightmare. Let AFS assist you in braving the storms with our reliable sump pumps and additional basement waterproofing solutions. Reach out today for a free inspection and estimate.
We understand the unique challenges posed by the wet climate in the Southeast United States and stand ready to help you shield your home from water ingress. Our AFS AquaStop™ sump pumps have the power to keep your basement dry for the long haul.
Publish Date:
Last Modified Date: