Cracked Chimney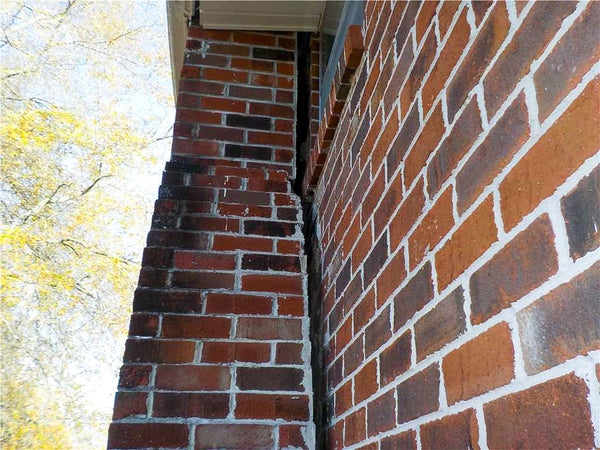 Sitting around a fireplace makes a home feel warm and relaxing, but a deteriorating chimney on the outside is a safety concern you shouldn't ignore.
A cracked chimney not only jeopardizes your chimney's structural soundness but also places your home in danger.
AFS knows that your home is an invaluable investment that warrants top-tier maintenance. We excel in delivering all-encompassing home solutions, including addressing cracked chimney concerns through our foundation repair services.
After reading this page, you'll know what's actually causing your chimney's cracks and the best way to mend them, thereby safeguarding both your home's integrity and your family's wellbeing.
What Is a Cracked Chimney? 
A cracked chimney involves noticeable or concealed breaks in the chimney's brickwork or stone construction.
These fractures usually appear in multiple places like the chimney crown or the chimney's main body. Particularly, these cracks are often seen in the mortar lines connecting the bricks.
However, they are not just an aesthetic concern; they can also trigger significant issues like water infiltration and foundation settlement. You might also spot gaps between the bricks, which could lead to more deterioration and make the chimney tilt away from the house, as seen in the image.
What Causes Cracked Chimneys? 
Various elements contribute to chimneys cracking, with the primary culprit often being soil-related issues affecting the foundation.
The southeastern United States is abundant in clay soils that are sensitive to moisture changes. The soil's stability can be compromised due to multiple factors, including: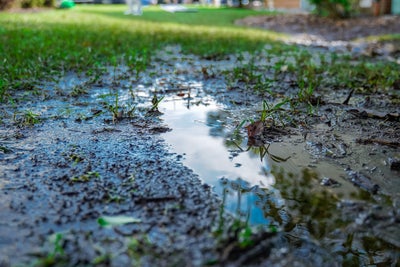 Water Accumulation: Prolonged rains, flooding, and melting snow saturate the soil, weakening its load-bearing capacity.
Erosion: Prolonged exposure to water erodes the base soil layer over time.
Drying and Shrinking: Soil recedes during arid conditions or droughts, leading to gaps where the chimney foundation can sink.
Inadequate Soil Preparation: If the soil isn't prepared or compacted adequately before the chimney's construction, it may not support the structure.
Disruptive Tree Roots: Nearby trees can have intrusive roots that move and disturb the soil, making it unstable.
Chimneys are often built separately from the house's main foundation, making them especially vulnerable to these soil changes due to no other source of support.
Can You Fix Chimney Cracks? 
Absolutely! A cracked chimney can be permanently mended, but a comprehensive approach is crucial.
Quick fixes like mortar repair, using sealants, or simple masonry patching are only temporary solutions. Your chimney will continue shifting if it's resting on unstable soil, causing cracks to reappear or new ones to form.
At AFS, we address the root cause to provide a fix that lasts. We offer a range of customized foundation repair options, such as our foundation pier systems, to fit your home's specific requirements.
How to Fix a Cracked Chimney 
Inspection and Diagnosis 
Our specialists conduct a meticulous assessment of your home, foundation, and chimney, cataloging the type and locations of cracks and additional damage.
Install Foundation Piers 
The most effective treatment involves installing foundation piers that not only stabilize but can potentially restore your chimney to its original position. This could close existing cracks, although further masonry work may still be required.
Based on soil conditions and your chimney's state, we either utilize helical piers or push piers anchored deep into the ground to reach stable soil layers. Here's the procedure: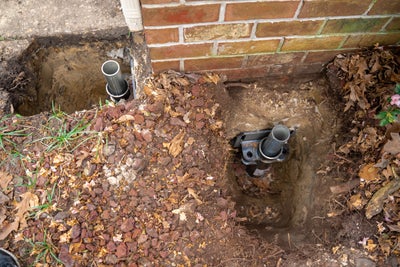 Dig down to the chimney's base
Use hydraulic tools to drive the piers into the soil
Gauge the pressure and depth during installation
Anchor the helical or push piers to stable soil or bedrock
Fasten a robust steel bracket to the base, assuring load transfer
Insert small markers into the external bricks as reference points
Refill the excavated soil
Annual Maintenance Inspections 
Our optional maintenance plans ensure that foundation piers keep supporting your chimney effectively. We will check-up on your home annually to align laser levels with the markers, confirming the system's ongoing stability.
Why Address the Chimney Issues Now 
Putting off chimney repairs only aggravates the problem, leading to increased safety risks and future expensive repairs. Timely action offers several benefits:
Avert Structural Risks: Delaying repairs can cause the chimney to become unstable, risking collapse.
Deter Water Damage: Cracks can let in moisture, escalating deterioration and structural woes.
Sidestep Fire Dangers: A weakened chimney is a fire risk and a tipping hazard.
Cost-Efficiency: Early action is usually more cost-effective than deferred, extensive repairs.
Enhance Property Value: A well-maintained chimney boosts your home's market value.
Contact AFS for Durable Chimney Stabilization Solutions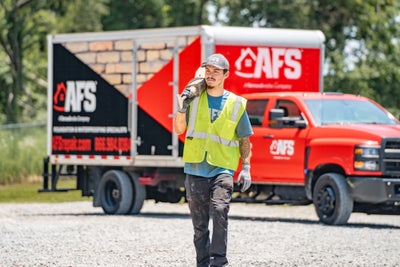 A damaged chimney poses a real risk to your home and loved ones. We offer a complimentary, obligation-free inspection to review your home and propose the most effective repair strategies.
Trust AFS for all your chimney and foundation repair concerns—contact us today! 
Publish Date:
Last Modified Date:
Explore more problem signs