Carbon Fiber Basement Wall Reinforcement
Discovering wall cracks and inward bowing walls in your basement is never fun. These issues, faced by homeowners all over the Southeast, pose risks to your home's safety, structural well-being, and value.
Fortunately, we have an advanced repair technique that solves the problem: carbon fiber wall reinforcement. Let's explore more about this dependable, lightweight repair method that keeps your walls stabilized.
What Is Carbon Fiber Basement Wall Reinforcement?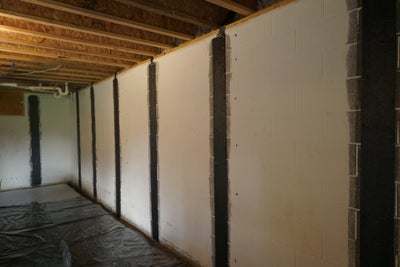 Carbon fiber basement wall reinforcement is an innovative technique designed to fortify and stabilize basement walls showing signs of damage, such as cracks or inward bowing. 
With the unmatched tensile strength of carbon fiber (10 times stronger than steel), our carbon fiber straps bond firmly to the wall's surface. This secure bonding ensures that the wall stays rigid and robust, preventing any further deterioration.
They are best used on walls showing minimal to moderate levels of damage, and those that have shifted inward by less than two inches. Unlike other solutions like steel beams, carbon fiber straps take up very little space and require a minimally invasive installation process.
Signs You Need Carbon Fiber Basement Wall Reinforcement
If you notice the following warning signs in your basement walls, it's crucial to tackle these issues promptly: 
Each home comes with its own set of challenges, especially when it comes to basement wall damage. For more severe wall damage, alternative treatments like our wall repair system, wall anchors, or channel anchors may be more suitable.  
Is Carbon Fiber Basement Wall Reinforcement Necessary?
Undoubtedly. Procrastinating on wall reinforcement can result in increasingly serious structural problems, escalating the cost of repairs. Act sooner to avoid broader issues.
Our carbon fiber solution seamlessly fits into our comprehensive approach to basement repair, ensuring a durable and secure home for the foreseeable future. 
What Are the Benefits of Carbon Fiber Basement Wall Reinforcement?
Enhanced Structural Integrity: Carbon Fiber dramatically improves the resilience of your walls, securing them in place and guarding against any other underlying foundation issues.
Low-Profile Appearance: Our carbon fiber straps are subtle and discreet, ensuring they are minimally invasive visually. Although not particularly decorative, they can easily be hidden behind paint or drywall.
Long-Lasting Solution: Carbon fiber is corrosion-resistant, ensuring its longevity surpasses traditional reinforcement techniques.
To maximize benefits, consider AFS's diverse range of engineered solutions. Designed with homeowners in mind, these products outperform standard, off-the-shelf alternatives in both durability and efficiency. 
How We Install Carbon Fiber Basement Wall Reinforcement
The installation process for our Carbon Fiber system generally follows these steps: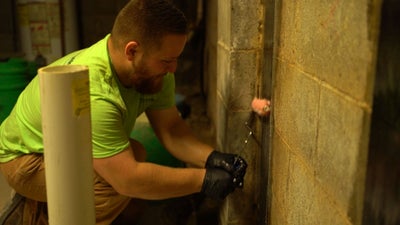 1. Evaluate the condition of the basement wall. 
2. Mark the specific installation spots for the straps. 
3. Prepare the wall surface through cleaning and sanding for optimum bonding. 
4. Affix a bracket to the sill plate. 
5. Apply a durable epoxy to the wall. 
6. Attach the carbon fiber strap to the epoxy-covered wall. 
7. Thread the strap through the bracket on the sill plate. 
8. Administer another layer of epoxy to both the strap and wall. 
9. Ensure the strap is securely bonded and fixed. 
Count on AFS for meticulous installation, providing enduring protection for your home. 
Why Our Carbon Fiber Basement Wall Reinforcement System Is the Best Choice for Your Home
Our Carbon Fiber reinforcement system offers unmatched strength to stabilize your basement walls, all while maintaining a discreet appearance that won't clash with your home decor.
It effectively prevents wall cracks and bowing, and it's compatible with other home repair solutions. We also offer an annual maintenance plan to ensure the carbon fiber reinforcement stays secure year-round. 
Contact AFS for Carbon Fiber Wall Reinforcement Today!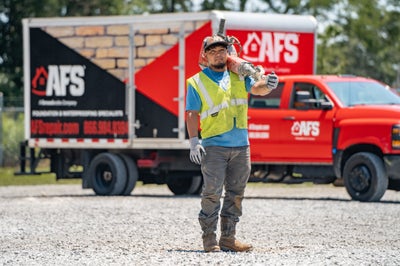 Spotting damage like cracked or bowed walls in your basement doesn't automatically imply your home is at risk of collapse. But early detection and proper repairs can prevent disasters while enhancing your home's safety and worth. 
AFS is your trusted expert in wall reinforcement solutions. With years of experience and proven strategies, we can permanently safeguard your home's structural soundness. Contact us today for your free, no-obligation evaluation. 
FAQs
The timeframe largely depends on the wall conditions but usually is done in less than a day. For a more precise schedule, contact us for a complimentary inspection and quote.
Our carbon fiber straps are discreet, nearly invisible post-installation. They are dark in color but can be easily hidden behind paint or drywall.
The system is predominantly suitable for concrete blocks or poured concrete walls with light to moderate damage. Check with your inspector if you're unsure if carbon fiber will work on your wall!