AFS IntelliBrace™ Wall Repair System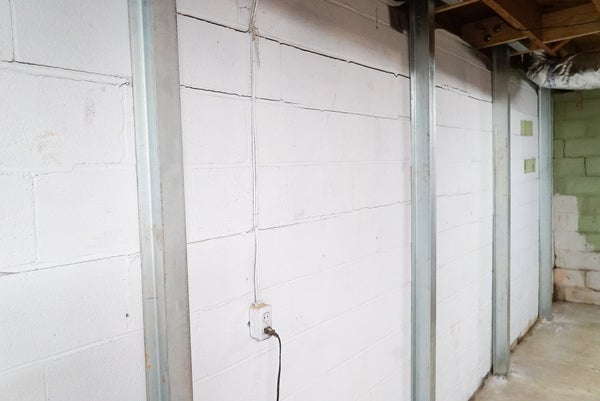 Basement walls are designed to protect your home, but what happens if they being to crack or bow inward? They could pose a real threat to your property and family, but they can be stabilized.
Taking a proactive stance is essential to fix these problems and assure your home's structural stability. The AFS IntelliBrace™ Wall Repair System is a groundbreaking method designed to address these issues.
This page will equip you with valuable insights into our IntelliBrace™ technology, its benefits, and why it's indispensable, helping you to make an informed choice for your home's protection.
What Is the AFS IntelliBrace™ Wall Repair System?
The AFS IntelliBrace™ Wall Repair System is a patented technology developed to stabilize basement walls affected by cracking, bowing, or shearing.
Unlike traditional steel I-beams, IntelliBrace™ beams fasten tightly to both the floor joists and the concrete floor, ensuring maximum stability. These beams not only halt further wall movement but also allow for gradual wall adjustments over time.
The IntelliBrace™ System can be tightened over time, slowly guiding any bowed or leaning walls back to a more stable, upright position.
What the AFS IntelliBrace™ Wall Repair System Can Fix
If your basement walls show signs of structural weakening, the IntelliBrace™ system could be your solution. Key signs to look for include:
Cracks visibly extending along the walls.
Evident wall bowing or tilting.
Growing gaps between the walls and the floor or ceiling.
Is the AFS IntelliBrace™ Wall Repair System Necessary?
Yes. Postponing wall repairs in your basement will only allow the damage to get worse and make the repair process more and more expensive.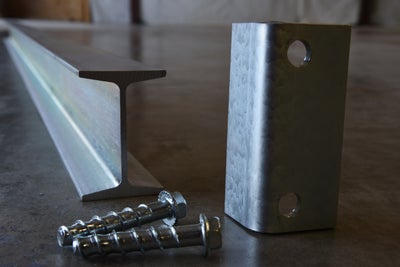 Installing the IntelliBrace™ system as soon as possible is beneficial for your home's safety. This expertly engineered system also serves as a key part of our all-encompassing basement repair strategy!
We also offer other products like wall anchors and carbon fiber straps, which could be more suitable depending on your basement's condition and size.
What Are the Benefits of the IntelliBrace™ Wall Repair System?
Minimal Disruption: IntelliBrace™ is fitted inside your basement, eliminating the need for exterior digging. Additionally, the beams take up minimal room in your basement.
Enhanced Wall Stabilization: IntelliBrace™ beams offer superior stability compared to conventional I-beams, firmly bracing your basement walls.
Potential for Wall Straightening: Apart from stabilization, the system enables homeowners to adjust their walls over time, restoring structural solidity.
Exclusive Quality: Our product development is world-class, providing homeowners with the best repair solutions available. Our options are far better than generic, retail store alternatives.
How We Install the AFS IntelliBrace™ Wall Repair System
1. Detailed Inspection
First and foremost, an in-depth evaluation by one of our specialists will determine if the IntelliBrace™ system fits your needs.
During the assessment, they will confirm the necessity for this solution, take exact measurements, and indicate the installation points for the beams.
2. Cutting the Beams
Before the installation commences, our crew will size each beam according to the specific height of your basement walls.
Our state-of-the-art beams and additional system components are crafted from robust, rust-resistant steel.
3. Attach Floor Joist Components
The top part of each brace is securely fastened to a nearby floor joist. An adjustable, large-diameter bolt ensures a secure connection.
Our experts will assess the robustness of your floor joists prior to recommending this solution, ensuring a seamless fit and function.
4. Adjust Each Beam's Position
Each beam should be precisely vertical for the IntelliBrace™ system to work effectively. To prepare for the next step, the installation team will adjust each beam's positioning using a leveler.
5. Secure Beams to the Floor
Finally, all beams are anchored to your basement's concrete floor using a specialized fastening bracket.
Compared to traditional repair methods, IntelliBrace™ covers the full height of the walls, making it ideal for correcting walls that are bowing, tilting, or sliding.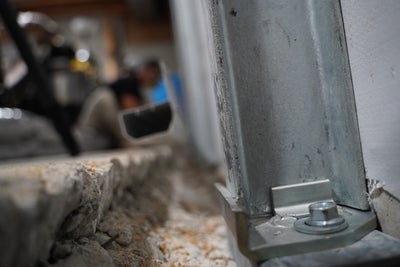 6. Beam Tightening
A standout feature of IntelliBrace™ is its adjustable bolt anchored to the floor joist.
This bolt can be gradually tightened to slowly correct wall positioning. This maintenance is best performed by our specialized team, scheduled annually.
As is evident, the setup may be intricate. But you can rely on AFS for a secure, flawless, and efficient installation process.
Why the AFS IntelliBrace™ Wall Repair System Is the Optimal Choice for Your Home
Advanced Engineering: A step above traditional I-beams.
Long-Lasting Solution: Engineered for sustained performance and durability.
Annual Maintenance Plan: Ensures extended efficiency and safety.
Reach Out to AFS for Locally Trusted Wall Repair!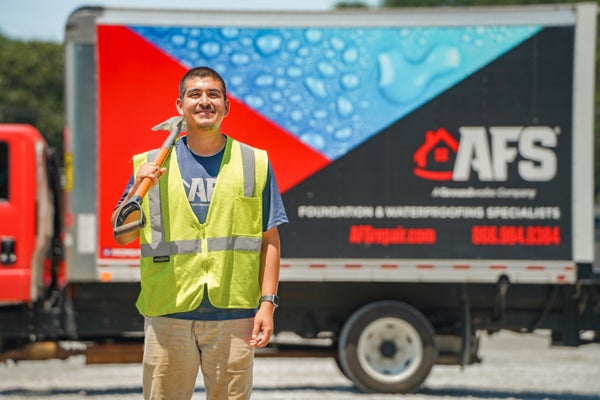 Putting off the repair of crumbling and bowing basement walls can be risky. Don't procrastinate and let the problem get worse. Secure your home's safety and reduce future repair costs by acting now.
Trust your property to the skilled hands of AFS. Our IntelliBrace™ Wall Repair System is the ultimate fix for your basement wall concerns. Contact us today to book a free, no-strings-attached inspection and fortify your home for the future.
FAQs
Regular tightening can be done depending on the condition of the wall, usually on a yearly basis. This task is best handled by AFS's dedicated service team. 
The beams extend from the walls but cause minor interruption. Though visible, their presence assures your home's safety and can be hidden with basement finishing. 
The installation period can vary, but most jobs are concluded within a day. For a more precise estimate, consult with our specialists!