When you walk across your living room, does the floor seem unsteady beneath your feet? Are you noticing a slight bounce or give that wasn't there before? If the answer is yes, you may be dealing with a case of bouncy floors, a common symptom of crawl space moisture.
Ignoring this problem won't make it go away; instead, it could undermine the integrity of your beloved home over time. But with the help of the professionals at AFS, restoring stability to your floors is entirely achievable.
What are Bouncy Floors?
Bouncy floors are exactly what they sound like – floors that give an unusual bounce, sag, or flex as you walk across them. This problem usually arises in homes with crawl spaces and can be attributed to a range of issues, including increased moisture, humidity, and the presence of mold or wood rot. These conditions can weaken the floor joists and structural supports, causing the floor above to feel bouncy or unsteady.
Why Bouncy Floors are a Problem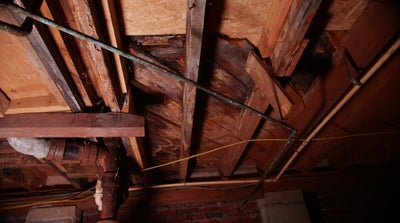 Bouncy floors aren't just unsettling; they're a clear indication that your home may be experiencing serious underlying issues. Increased moisture in your crawl space can lead to wood rot, compromising the structural integrity of your home.
Additionally, the damp environment can promote the growth of harmful mold and mildew, posing significant health risks for the inhabitants of the house.
What Should I be Looking for in My Home?
Signs of bouncy floors can range from the obvious to the subtle. While the floors' bounce or give is the primary indicator, you might also notice sagging floor joists in your crawl space, a musty odor throughout your home, the presence of mold or mildew, or increased humidity in the house.
What Causes Bouncy Floors in My Home?
The main cause of bouncy floors is excess moisture in your crawl space. This can result from a lack of proper ventilation, plumbing leaks, or even the natural dampness of the surrounding soil.
Over time, this moisture can lead to the aforementioned wood rot and mold growth, weakening the floor joists and causing the floor to feel bouncy or unstable.
How Can AFS Fix Bouncy Floors in My Home?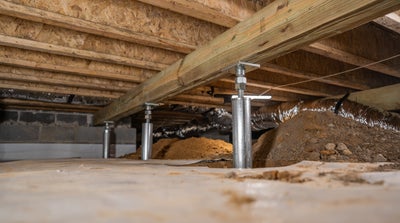 Experience floors that are safe, sturdy, and level with the SettleStop IntelliJack Crawl Space Stabilizing System from AFS. Say goodbye to sagging, bouncy, or uneven floors caused by crawl space issues. Our galvanized steel supports reinforce sagging beams and undersized joists, bringing stability and straightness back to your floor structure.
Unmatched in strength, each support jack in the IntelliJack system can handle a load capacity of over 24,000 pounds. Tested and certified to meet the highest industry standards, our system provides a reliable solution to the problem of sagging floors.
What sets the IntelliJack system apart from other support jacks is its adjustability. Not all crawl spaces are the same, and our support posts can adapt to nearly any height.
Our crawl space repair experts carefully measure and install the IntelliJack system, ensuring the floor joists return to their original position. After installation, these supports can be easily adjusted to lift the floor joists back to their initial height, fixing the sagging issues and restoring your home's structural integrity.
With the ability to adjust and correct the height of your floor joists, you can trust that your home will remain safe and structurally sound for years to come.
Why Should You Trust AFS?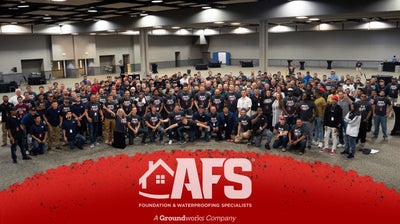 At AFS, we're not just repair specialists – we're also homeowners who share the same concerns about the safety and integrity of a living space. With years of experience and a team of certified professionals, we have both the knowledge and the skills to handle all your crawl space needs effectively.
We pride ourselves on providing comprehensive solutions that not only fix the present problem—but also prevent future ones. Trust us to bring the bounce back into your step, not your floors. If you suspect your home is suffering from bouncy floors, don't hesitate to contact us today. Let's secure the stability of your home together.
FAQ: Bouncy Floors
The duration of the process can vary depending on the size and condition of your crawl space. After a thorough inspection, our AFS team can provide a more precise timeline. Generally, most installs take about 1 or 2 days. 
While crawl space repair is a long-term solution for improving your home's stability, regular maintenance inspections are recommended to ensure the system continues functioning optimally.
While some homeowners may attempt DIY solutions, it's best to seek professional assistance due to the complex nature of the process. Proper crawl space repair requires expert knowledge and tools to ensure effectiveness and safety.